10 Lewis Cubitt Square forms part of the 67-acre King's Cross Central Limited Partnership (KCCLP) redevelopment. It is a mixed-use 12 storey commercial development for tenant Meta, built to CAT A fit-out standard and offering nine floors of flexible office space. It also includes a large flexible retail unit at street level plus a 600-seat theatre.
Approach
Design and build
Our capabilities
Sectors
Commercial
Modern Methods of Construction
"It was a really positive experience working with Kier; they clearly have fantastic construction expertise, we enjoyed the ease with which we were able to collaborate with them, and the result is just brilliant. The completion of 10 Lewis Cubitt Square is a major milestone in the development of King's Cross. It not only reinforces our position as London's destination for creative and innovative businesses and individuals, but also reflects our continued confidence in the importance of the workplace as a place to collaborate, connect and be inspired. Meta are very happy with their new offices and we look forward to welcoming more of their employees to the estate very soon"
Tom Callaway, Senior Development Manager, Argent (Property Development) Services LLP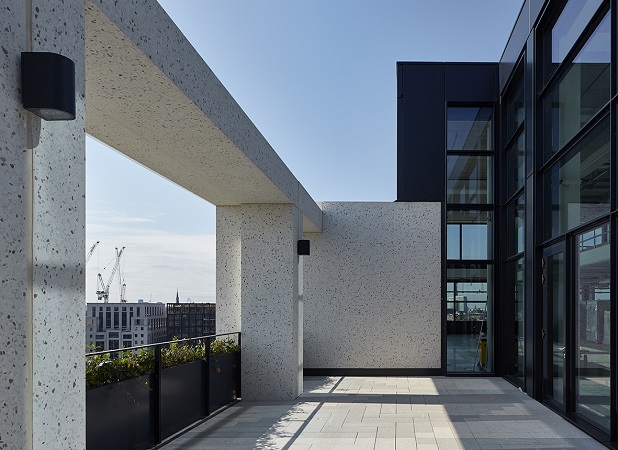 KCCLP's aim was to create a new mixed use commercial development to act as a backdrop to the public Lewis Cubitt Square in King's Cross. The 196,000 sq. ft building, designed by Allford Hall Monaghan Morris Architects, would house commercial and retail space plus a 600 seat theatre at basement level and would form one of two new offices for high profile tech company Meta. Meta's fit out would be designed by Gehry Partners LLP and TP Bennett LLP, and constructed by Overbury plc.
A double storey basement would house the theatre and some plant rooms, with 10 storeys office space erected above. It would entail a complex two layered façade; a unitised façade creating the water and air seal, with 4000 tonnes of precast concrete creating an exoskeleton over the first layer, producing depth and shadow to each elevation.
Sustainability would be a key driver with the project earmarked to be a CCS Ultra Site. Social value and community engagement was also a main focus throughout the build process.
In line with our Building for a Sustainable World framework c. 30,000m³ of excavated materials were recycled during the double basement construction works and re-used as part of an earthworks project at a nearby power station.
Various modern methods of construction were used to save time on the programme and aid in quality control, both the unitised glazed façade and precast concrete façade were manufactured off site which ensured optimised waste control and factory quality products that could be installed much earlier with follow on trades starting much sooner. Other essential components that were manufactured offsite include sprinkler pipework and pumps, security equipment, mechanical riser units and modular toilet systems. Full size façade and bathroom mock-ups were also used as benchmarks to ensure that quality control would be maintained throughout the build process.
Technical highlights include an extensive hydraulic propping system during basement works, a large slipform core with a footprint of approx. 26 meters by 17 meters, totalling c. 4000m3 of concrete, and four 56 tonne transfer beams installed to create the lid of the theatre space.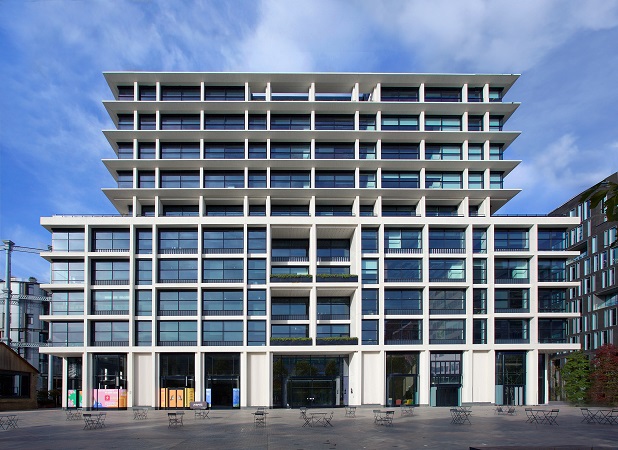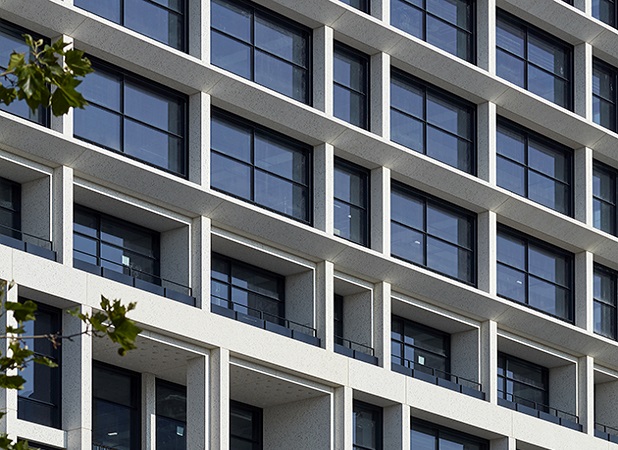 This new building complements and integrates with the public realm at the King's Cross redevelopment with the office floors designed to promote health and wellbeing by offering generous spaces, large windows with terraces on every level, and various breakout spaces. It has been designed to accommodate flexible working with the Kier Mechanical and Electrical services design allowing the floors to be adapted, utilising a four-pipe fan coil system.
Designed to BREEAM Excellent standard the building has dedicated cycle access and a large cycle parking facility, with space for 238 bicycles, lockers, showers and a drying room. Key digital tools used include recording weekly progress with Holobuilder, Matterport, Multivista and timelapse cameras, which will ease building maintenance and simplify any changes in future.
The team was very engaged with the local community throughout, assisting in a skip garden and outdoor classroom creation; money, food and book donations to nearby schools and charities; plus various apprenticeships, work placements and student visits to site.