HMP Five Wells is an adult male Category C resettlement prison, designed to enhance rehabilitation. The project embraced a Design for Manufacture and Assembly (DfMA) and integrated digital tools to drive efficiencies in the design, construction and operation of the facility.
Approach
Design and build
Our capabilities
Sectors
Custodial
Innovation and Digital
Modern Methods of Construction
Workshops built for skills development
24
Leveraging economies of scale
The scheme incorporates repeatable, standardised components and assemblies across the thirteen buildings on site. Circa 80% of the design has been standardised, leaving just 20% as site-specific design. This means that the component assemblies designed for Wellingborough can and will be used on subsequent MoJ prison projects, leveraging economies of scale for the programme. A select group of current inmates were involved with the construction.


Safe and secure
The design developed for the facility supports the MOJ's commitment to building a safe and secure environment that is conducive to rehabilitation. Buildings feature windows with no bars and each landing can be split into three, with each spur holding 20 men. There is also an association space for residents to use and the visitors' hall has been designed to be open and light to instill a sens of normality for those visiting.
Circa 80% of the design was standardised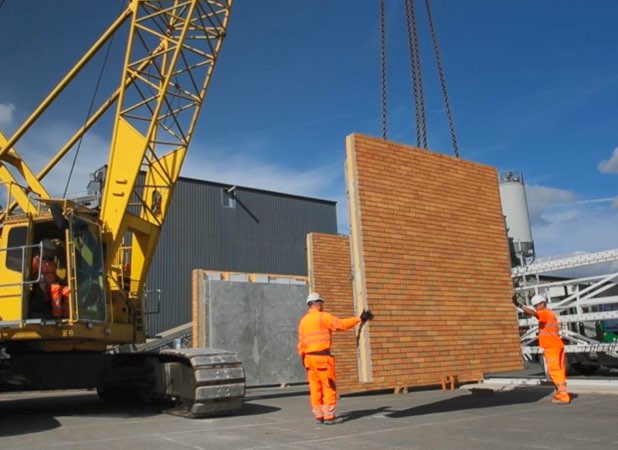 In 2019 Kier was awarded a £253m contract by the Ministry of Justice (MoJ) for a new build resettlement prison in Wellingborough. The project was the first in a series of schemes to be undertaken as part of the MoJ's wider Change, Strategy and Planning (CSP) Directorate within HMPPS. The aim of the programme is to reform and modernise the prison estate to make it more efficient, safer and focused on supporting rehabilitation.
A core feature of the programme is to optimise how the MoJ's assets are designed, procured, delivered and operated, through a Design for Manufacture and Assembly (DfMA) or 'platform' approach. As project integrator, Kier drove a manufacturing mindset for Wellingborough by bringing together a diverse team to deliver this component-led approach.
Kier made extensive use of precast concrete components (15,183 precast panels plus more than 60,000 sub-components), bringing together three separate precast suppliers, Bison Precast, FP McCann and Banagher – a total of six different factories across the country – as well as precast management company PCE. This approach reduced risk, and enabled a high level of innovation and collaboration between Kier and its supply chain partners.
The precast components for cell doors, walls and flooring were optimised to avoid follow-on work as far as possible. For each cell, M&E utility conduits and points were cast-in, and shower trays were also cast into the floor units. All this reduced on-site trades and will improve serviceability and security.
The Wellingborough scheme also adopted a 'digital first' approach to enable Kier to monitor, manage and communicate across the wider team. Standardisation was driven throughout the design to ensure the repeatable use of components. The level of detail we were able to achieve informed our strategy for developing the precast moulds, how we would cast the components, how we would put together the construction programme, strategies for lifting components into position, as well as the integration of components such as the prefabricated services (MEP).
To control quality across all six factory sites, Kier also implemented the use of Dalux, a field tool that allowed the project team to track the status of components being produced by each supplier. Clicking on any precast component within the system brings up the full quality assurance records for that component, and allowed the team to digitally track its journey and monitor progress. Live dashboards indicated how well the system was being used, giving full transparency to operations. The scheme also utilised two dedicated quality managers to ensure Kier delivered this large-scale project to the MoJ's high standards.