A truly unique, multi-award-winning project, Shakespeare North is a replica new build theatre within a modern cultural and educational building. It will celebrate the connections between Knowsley, Shakespeare and Elizabethan theatre, completing the UK's Shakespearean triangle – London – Stratford-upon-Avon – Prescot. The attraction, in the heart of Prescot, forms a key part of the regeneration of the town centre.
Approach
Design and build
Sectors
Leisure and Heritage
Delivered
48.9% 
Social Return on Investment (SROI)
Fuel consumption reduced
40%
less carbon produced
25
community engagement events
The theatre is built from reclaimed hardwood, designed and crafted by hand; a traditional method of construction rarely used in the 21st century.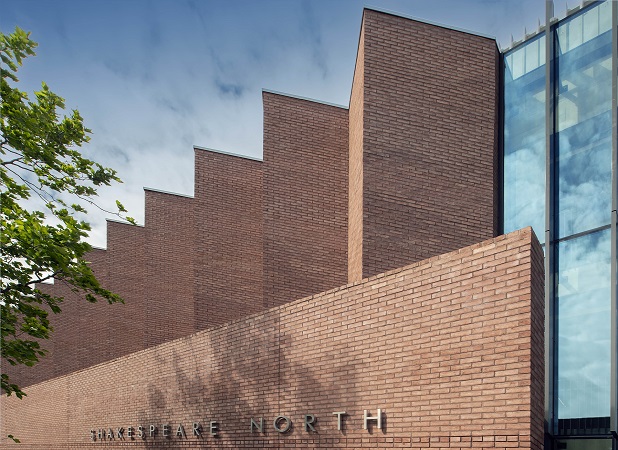 A contemporary signature building with a striking external façade, the Shakespearean era playhouse is based on the 1629 Cockpit-in-court theatre, and earlier designs by the celebrated architect Inigo Jones with a capacity of 320-470 seats, dependent on the chosen stage format.
Collaborative working between Kier, Knowsley Council, Austin-Smith:Lord Architects, specialist consultants, and our trusted supply chain was key to successful project delivery with multiple challenges including construction within a constrained market town site, a level difference of 12ft, and bedrock near the surface, specialist theatre design including flying balconies, hanging technical areas, acoustic roofs, safe installation of pre-constructed, bespoke timber frame- 60 tonnes of English Oak, delivery of a historic design, built for modern audiences, supporting Knowsley Council's regeneration plans, delivering social value benefits and minimising environmental impact during construction.
The complex logistics were managed through our programme and this meant that the main concrete and roof structures had already been constructed before the erection of the specialist timber frame. To overcome the significant challenges this presented, collaboration was key. Supported by KPS and our supply chain, a bespoke hydraulic MultiGrab was developed to fit to the spider crane. This ensured versatility for safe installation into the confined space to create a Box-in-a-box design solution (lifting the large oak pre-assembled timbers into the existing concrete structure).
Key features include a unique, bespoke theatre based on a historic design, an outdoor performance garden, a performance and rehearsal studio, educational facilities, a high-quality digital gallery and integrated visitor experience, a bar/café with an attractive piazza area and retail and office space.
Careful logistics, delivery management and positive engagement ensured minimal disruption to neighbours and surrounding business.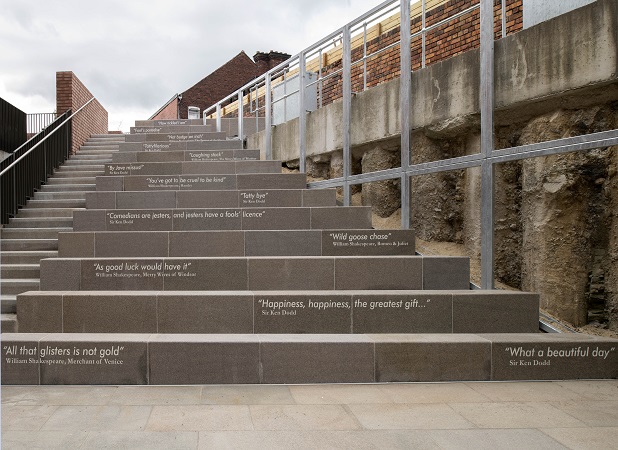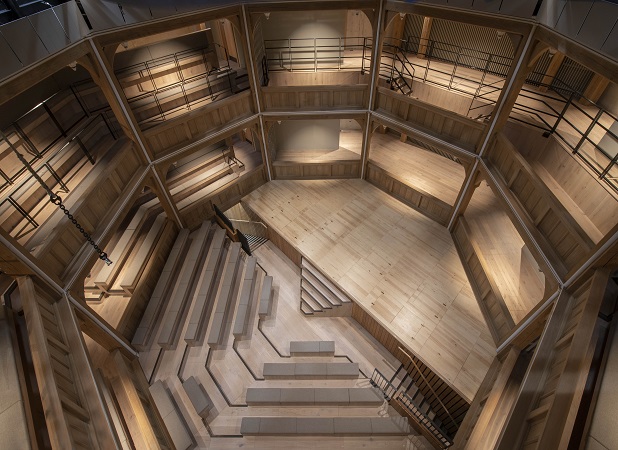 The Playhouse is a distinctive, high-quality addition to the visitor offer of the region, anticipated to attract over 140,000 new visitors to the area each year. 
Despite COVID lockdown, social value targets set pre-Covid have been exceeded, delivering 48.9% Social Return on Investment (SROI), a total value of £12,171,959 on the project.  This has included 25 community events, engaging with over 12,500 young people, creating 23 jobs and providing 20 apprenticeships.
Working collaboratively with Sunbelt Rentals, the innovative, industry-leading, UK-first Flybrid Flywheel was used to power the crane on site. This delivered carbon reduction savings of up to 85%, when combined with HVO fuel. During the trial over 5000 litres of fuel were saved, with a total carbon saving of more than 16 tonnes.